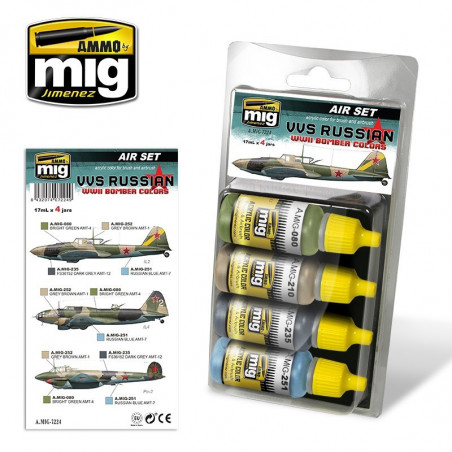  
VVS RUSSIAN WWII BOMBER COLORS
Inclusief BTW
1-2 werkdagen
VVS RUSSIAN WWII BOMBER COLORS
High quality acrylic paint set includes all 4 colors used to accurately apply the camouflage of bombers and ground-attack aircraft of the Soviet Air Force during World War II. With these references, you can accurately depict aircraft such as the Il-4, the Pe-2 and, of course the iconic Il-2 Sturmovik.
The colors are based on period photographs and documents representing exact colors, although slightly lightened to compensate for the scale effect. This paint is created using a formula optimized to obtain the maximum performance from both brush and airbrush application.
This set includes 4 colors in 17mL bottles. Each bottle features a steel agitator to facilitate thorough mixing of the paint and must be shaken before each use. Each color is water soluble, odorless, and non-toxic. We recommend A.MIG-2000 Acrylic Thinner for proper dilution. Dries completely in 24 hours.
Colors included:
A.MIG-080 BRIGHT GREEN AMT-4
A.MIG-235 DARK GREY AMT-12
A.MIG-251 RUSSIAN BLUE AMT-7
A.MIG-252 GREY BROWN AMT-1
Geen klantenbeoordelingen op het moment.