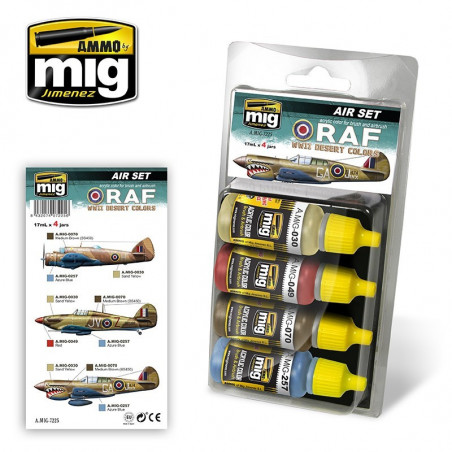  
RAF WWII DESERT COLORS
Inclusief BTW
1-2 werkdagen
High quality acrylic colours specifically formulated for the colours employed by the Royal Air Force over North Africa during WWII. The majority of British aircraft and some of their allies used these camouflaging colours.
This set solves the problem of choosing the correct colours for your models, saving valuable time. These colours are accurately and slightly lightened for scale reduction effect on any kit. All products are acrylic and have been formulated for maximum performance with either brush or airbrush and are water-soluble, odourless, and non-toxic. Shake well before each use. Each jar includes a stainless steel agitator to facilitate mixture. We recommend A.MIG-2000 Acrylic Thinner for correct thinning. Dries completely in 24 hours.
Colors included:
A.MIG-030 SAND YELLOW
A.MIG-049 RED
A.MIG-070 MEDIUM BROWN
A.MIG-257 AZURE BLUE
Geen klantenbeoordelingen op het moment.