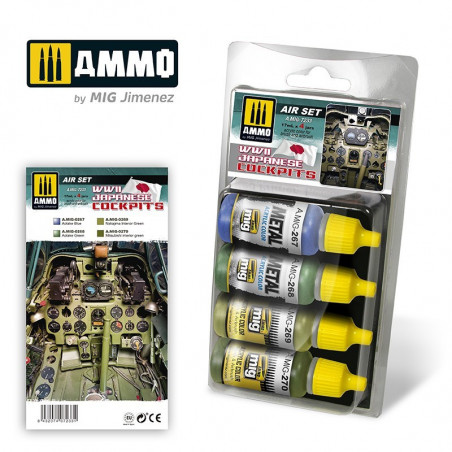  
WWII JAPANESE COCKPITS SET
Inclusief BTW
1-2 werkdagen
WWII JAPANESE COCKPITS SET
High-quality acrylic colours designed to accurately paint the cockpits of most Japanese aircraft flown during WWII, including aircraft from both the early war years and the final campaigns of the conflict. This set resolves problems of mixing proper ratios and accurate colours for the interior surfaces of WWII Japanese planes, saving precious modelling time while delivering ease of application. Among the aircraft that can be painted with this set are the well-known A6M Zero, D3A Val, Ki-43 Oscar, Ki-84 Hayate or Ki-61 Hien among others.
These colours can also be used to paint other interior areas such as the landing gear wells or the flaps. These exact colours have been slightly lightened to compensate for the 'scale effect' which allows you to apply the correct colour to your models. Formulated for maximum performance with both brush and airbrush. This set contains four acrylic colours in 17 ml jars. Shake well before each use. Each jar includes a stainless-steel ball agitator to facilitate mixing. Water soluble, odourless, and non-toxic. Thin with Acrylic Thinner A.MIG-2000 for the best results, dries completely in 24 hours.
Geen klantenbeoordelingen op het moment.