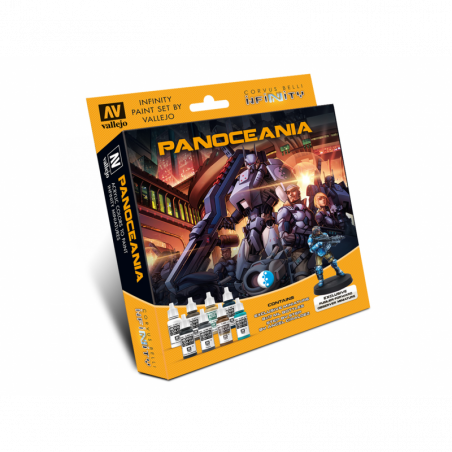  
MODEL COLOR SET: INFINITY PANOCEANIA WITH EXCLUSIVE MINIATURE
Inclusief BTW
1-2 werkdagen
MODEL COLOR SET: INFINITY PANOCEANIA WITH EXCLUSIVE MINIATURE
This product allows you to own have all the necessary colors to paint the models belonging to your favorite faction: PanOceania.
This set includes an exclusive miniature that can only be found in this paint set: Fusilier (Forward Observer). You will also find the colors that you will need to paint your PanOceania army: Dark Prussian Blue (70.899), Green Blue (70.808), White (70.951), Black (70.950), Chocolate Brown (70.872), Flat Earth (70.983), Old Wood (70.310), and Dark Grey (70.994).
In addition to this, you can follow Ángel Giraldez's step by step guide that he has made to help you paint your miniature to a spectacular finish.
A fundamental set designed for beginners in the hobby, amateur painters looking to expand their skills, or experts who want to have all the colors needed to paint their favorite miniatures in a single pack.
Geen klantenbeoordelingen op het moment.
Klanten die dit product aangeschaft hebben kochten ook...