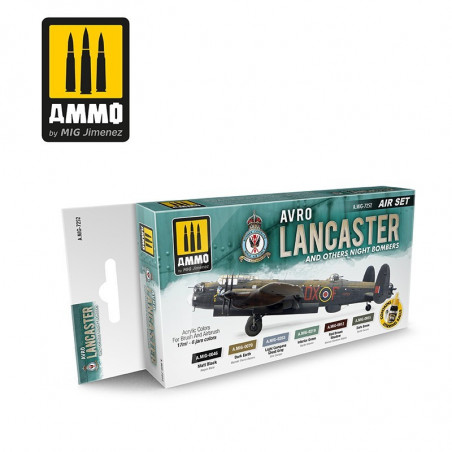  
AVRO LANCASTER AND OTHERS NIGHT BOMBERS AIR SET
Tax included
1-2- business days
AVRO LANCASTER AND OTHERS NIGHT BOMBERS AIR SET
High quality acrylic paints designed to represent the distinctive paint scheme of the Avro Lancaster, as well as many of your favourite RAF bombers flown during World War II. Most of the missions flown were carried out at night, which is why they had under sides camouflaged in black. In addition, this convenient set contains the colours necessary to simulate the characteristic stains that the engine exhaust deposited on the wings.This set solves the common problem of choosing the correct shades for your base colours which saves valuable modelling time. The colours in this set are accurate and slightly lightened to compensate for the scale effect of any model.
This paint's formula is optimized for maximum performance with both brush and airbrush. Six colours included in 17ml containers.
Shake well before each use. Each bottle includes a steel mixing ball to facilitate a properly thorough paint mixture.
Water soluble, odourless, and non-toxic. Use A.MIG-2000 Acrylic Thinner for proper thinning, dries completely within 24 hours.
Includes the colours:
A.MIG-0070 - ACRYLIC COLOR Medium Brown

A.MIG-0915 - ACRYLIC COLOR Dark Green

A.MIG-0046 - ACRYLIC COLOR Matt Black

A.MIG-0219 - ACRYLIC COLOR FS-34226 (BS283) Interior Green

A.MIG-0912 - ACRYLIC COLOR Red Brown Shadow

A.MIG-0203 - ACRYLIC COLOR FS-36375 Light Compass Ghost Gray
No customer reviews for the moment.