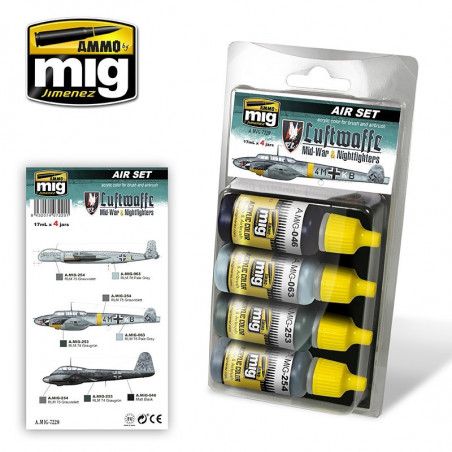  
LUFTWAFFE MID WAR SET
Tax included
1-2- business days
High quality acrylic paints specially formulated to represent Luftwaffe camouflage of the mid years of World War II, as well in nightfighters. With these colours, modellers can accurately paint most of aircraft used within this period, from the well-known Bf 109, Bf 110 and Fw 190 through to the nightfighters such as the He 219 or Me 410. This set resolves the issues of choosing the correct accurate colours for our models, saving valuable time. These colors are based on RLM and Federal Standard and are exact colors, although slightly lightened to compensate for the scale effect of any model. Each color is optimally formulated to obtain the maximum performance with both brush and airbrush. Set contains 4 colors in 17mL containers. Shake well before each use. Each color includes a steel agitator to facilitate the mixing of the paint. Water soluble, odorless, and non-toxic. We recommend A.MIG-2000 Acrylic Thinner for correct dissolution. Colors dry completely in 24 hours.
Colors included:
A.MIG-046 MATT BLACK
A.MIG-063 PALE GREY
A.MIG-253 RLM 74 GRAUGRÜN
A.MIG-254 RLM 75 GRAUVIOLETT
No customer reviews for the moment.