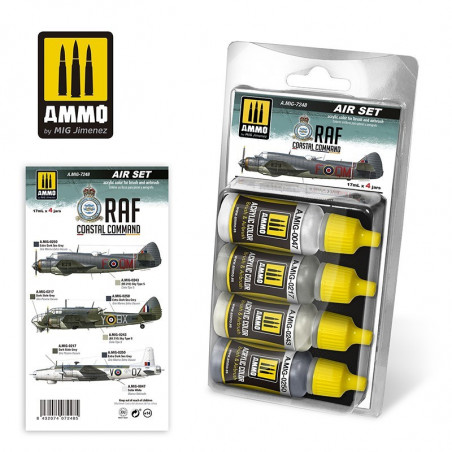  
RAF COASTAL COMMAND
Tax included
1-2- business days
One of their main missions was the protection of convoys crossing the Atlantic. These units operated such well-known aircraft as the Bristol Beaufighter, the Vickers Wellington, and the Fairey Swordfish among others.
This set solves the problem of choosing the correct colours for your models which ensures accuracy and saves valuable time. These colours are accurately and slightly lightened for scale reduction effect on any kit. Includes four colours in 17 mL bottles. All products are acrylic and have been formulated for maximum performance with either brush or airbrush and are water-soluble, odourless, and non-toxic. Shake well before each use. Each jar includes a stainless steel agitator to facilitate mixture. We recommend A.MIG-2000 Acrylic Thinner for correct thinning. Dries completely in 24 hours.
Includes the colours:
A.MIG-0250 Night Blue Grey
A.MIG-0217 Dark Slate Grey
A.MIG-0047 Satin White
A.MIG-0243 Sky Type S (BS 210)
No customer reviews for the moment.