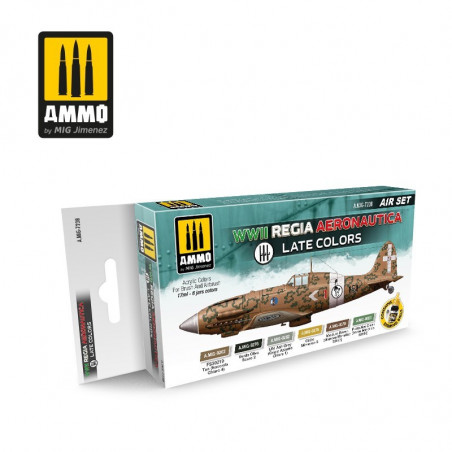  
WWII REGIA AERONAUTICA – LATE COLORS SET
Tax included
1-2- business days
WWII REGIA AERONAUTICA – LATE COLORS SET
This set solves the problem of finding the correct colours and shades of these Italian aircraft, saving valuable time. The high quality acrylic paints are designed to represent the camouflage schemes of most Regia Aeronautica aircrafts during the last stage of World War II. These colours can accurately be used to paint the SM.79 Sparviero, Mc.202 Folgore, and Fiat G.50 Freccia among others. The colours are accurate, although slightly lightened to compensate for the scale effect of any model.
These exact colours have been slightly lightened to compensate for the 'scale effect', which allows you to apply the correct colour to your models. Formulated for maximum performance with both brush and airbrush. This set contains four acrylic colours in 17 ml jars. Shake well before each use. Each jar includes a stainless-steel ball agitator to facilitate mixture. Water soluble, odourless, and non-toxic. For the best results, use A.MIG-2000 Acrylic Thinnerr for correct thinning. Dries completely in 24 hours.
No customer reviews for the moment.