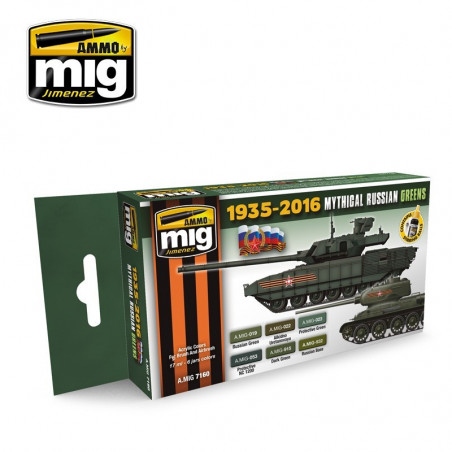  
MYTHICAL RUSSIAN GREEN COLORS 1935-2016
Tax included
1-2- business days
MYTHICAL RUSSIAN GREEN COLORS 1935-2016
Inspired by the mythical might of Russian armor spanning decades, conflicts, and AFV evolution. This thorough selection of camouflage Greens accurately represents a wide range of iconic Russian vehicles from the early T17 tankette, the iconic T34, KV1, IS series, through to the T-55 – T90s seen on the modern battlefield. This wide range of mythical Russian greens also covers  decades of Russian amphibious vehicles, artillery, and personnel carriers. All 6 jars are acrylic and formulated for maximum performance both with brush and airbrush. The Scale Reduction-Effect will allow us to apply the correct color on our models. Water soluble, odorless, and non-toxic. Shake well before each use. Each jar includes a stainless steel agitator to facilitate mixture. We recommend A.MIG-2000 Acrylic Thinner for correct thinning. Dries completely in 24 hours.
Includes colors:
A.MIG-019 4BO RUSSIAN GREEN
A.MIG-022 3B AU AKIDNO-URETANOVAYA
A.MIG-023 PROTECTIVE GREEN
A.MIG-053 PROTECTIVE GREEN NC 100
A.MIG-915 DARK GREEN (BS 241)
A.MIG-932 RUSSIAN BASE
No customer reviews for the moment.