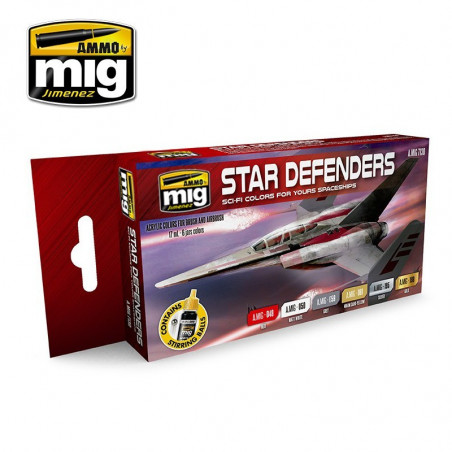  
STAR DEFENDERS SCI-FI COLORS
Tax included
1-2- business days
STAR DEFENDERS SCI-FI COLORS
Set that includes a selection of some of the most common colors used for spacecraft and vehicles. This set is focused on ships featured in films such as Space 1999, Galactica Viper, and others which feature predominately light grey and red for identifying signals and markings. Two metallic paint colors are included for some androids and metal parts featured on some ships. All jars are acrylic and formulated for maximum performance both with brush and airbrush and will allow us to apply the correct color on our models. Water soluble, odorless, and non-toxic. Shake well before each use. Each jar includes a stainless steel agitator to facilitate mixture. We recommend A.MIG-2000 Acrylic Thinner for correct thinning. Dries completely in 24 hours.
Included colors:
A.MIG-049 RED
A.MIG-050 MATT WHITE
A.MIG-059 GREY
A.MIG-061 WARM SAND-YELLOW
A.MIG-195 SILVER NEW COLOR!
A.MIG-198 GOLD NEW COLOR! 
No customer reviews for the moment.