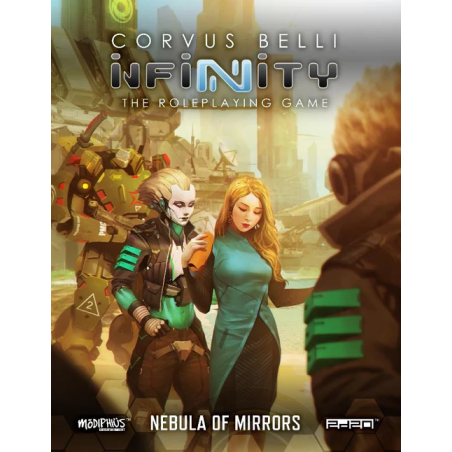  
Infinity: Nebula of Mirrors Campaign
Tax included
1-2- business days
Infinity: Nebula of Mirrors Campaign
OLD SECRETS, NEW LIES.
This pulse-pounding espionage campaign draws the PCs deep into the darkest secrets of the Human Sphere. Betrayed by their friends, and with their enemies turning into strange allies, can they untangle their twisted triangle of allegiances before the Code Infinity unleashes its destructive force?
A terrifying sequence of events is set in motion when a simple "babysitting" operation fails catastrophically on a Dawn caravanserai. Burned by O-12, can the PCs track down the traitors responsible and learn the truth about the O-12's shadowy Charon Committee?
From the bitter majesty of Dawn to the oppressive battlegrounds of Paradiso, they will soon learn that not all threats to the Human Sphere come from the Combined Army, and the enemy without pales to the enemy within!
In this book, you'll find:
A deep dive into the shadowy past of the O-12 where the ends always justified the means.
New conflicts with Ikari Company and Druze society mercenaries.
A fully detailed caravanserai and story hooks.
Maps and actions scenes including a docking bay and a bar shootout.
New adversaries such as Amaunet, Ziad Arslan, the Bellerophon Corporation, and Spiral Corps.
A return to one of the pivotal locations in the Infinity universe's history.
Information on the Charon Committee, a sinister O-12 think-tank, whose members are not to be trusted.
A Combined Army a ack on Runenberg where the PCs must hold the line!
A powerboat chase through flooded ruins
No customer reviews for the moment.