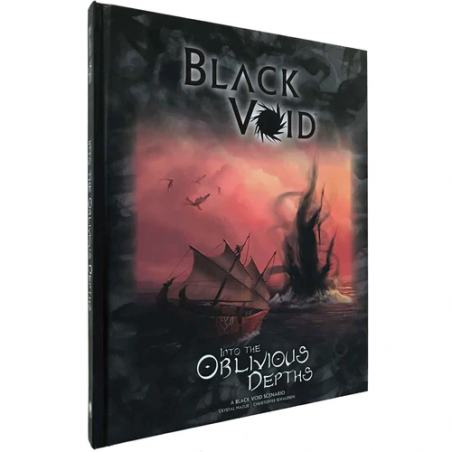  
Black Void - Into The Oblivious Depths
Tax included
1-2- business days
Black Void - Into The Oblivious Depths
"Into the Oblivious Depths" is a quintessential Black Void adventure where the characters are thrust into a perilous journey exploring the wonders and horrors beyond Llyhn the Eternal as they search for a new home for Humanity.

"Welcome to the Tadh Consortium, a Ka'Alum faction dedicated to launching Void-traversing expeditions discovering and exploring new worlds. You and your compatriots have been hired as part of an expeditionary crew to travel the Void, investigating uncharted worlds to find a new home for humankind.
Guided by a charter based on rumours and fragmented reports of paradisial worlds, you prepare to voyage into the oblivious depths abord the Void Vessel "The Sentinel".
You have all heard the fireside stories about the horrors awaiting unprepared Voidfarers. Still, the rewards of this venture and the chance to bring hope to humanity are certainly worth any risks…
While your travels may indeed be perilous, the clandestine, callous, and nefarious scheming behind the scenes may well be the greatest threat you have to face."

• 132-page full-colour hardback adventure for the BLACK VOID RPG.
• Ideally suited for four to six characters, each in the 65-75 character points range.
• Four brand new Cosmic worlds for the players to explore.
• New thrilling monsters and exciting sentient species with full stats and artwork.
• Gorgeous layout and original artworks by the core book artists.
"Into the Oblivious Depths" is a must-have adventure for Black Void Arbiters and players looking to explore the wonders and horrors beyond Llyhn the Eternal, epicentre of the Cosmos.
"Into the Oblivious Depths" is an enticing adventure for players enjoying exploration, horror, and intrigue scenarios.
"Into the Oblivious Depths" is the second in the series of stand-alone scenarios that can be played separately or readily integrated into ongoing Black Void campaigns.
The exciting storyline of "Into the Oblivious Depths" can be played as a complete campaign or easily adapted into four separate modules.
"Into the Oblivious Depths" adventure contains horror elements.
No customer reviews for the moment.