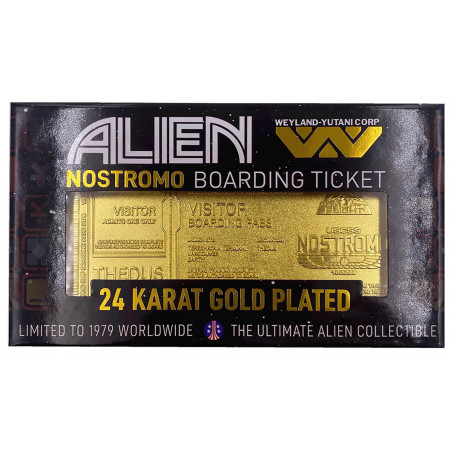  
ALIEN 24K GOLD PLATED BOARDING TICKET LIMITED EDITION REPLICA
Inclusief BTW
1-2 werkdagen
ALIEN 24K GOLD PLATED BOARDING TICKET LIMITED EDITION REPLICA
Welcome aboard the Nostromo! But more importantly, welcome to space: the home of sci-fi horror...
Inspired by Ridley Scott's eponymous film, Alien was first given cinematic life in 1979, introducing the world to a new type of horror and a nightmare-inducing creature for us to cower from behind our sofas.
Since its inception, legions of horror fans have rallied behind this expansive series as it has grown into a theatrical behemoth, boasting numerous sequel and spin-off films, accompanied by droves of cross-media interpretations—across video games, comic books, and more!
And there has never been a better opportunity to expand your growing Alien collection than with this certifiable pass into elite Alien fandom.  
Accompanied by a display stand this is the perfect gift for any collector or fan of the series!
Limited to only 1,979 pieces, this is an extremely limited collectable, so hurry and get yours today!
Features:
Limited to 1,979 pieces worldwide
Individually numbered
Officially licensed by 21st Century Fox
24k gold plated and embossed
Includes display stand
Geen klantenbeoordelingen op het moment.