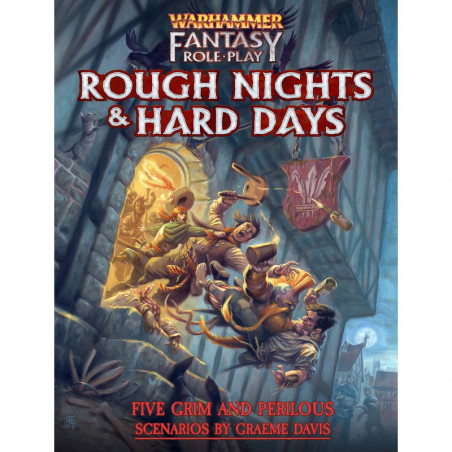  
WFRP Rough Nights & Hard Days
Tax included
1-2- business days
WFRP Rough Nights & Hard Days
A collection of new and classic adventures that take seemingly innocuous locations and situations and involves the Characters just as events spiral out of control.
Five Grim and Perilous Scenarios by Graeme Davies.
Rough Nights & Hard Days offers five interlinked scenarios for Warhammer Fantasy Roleplay written by series veteran, Graeme Davis. These can be played as stand-alone adventures, or combined into an epic five-part campaign, where the Characters become embroiled in a bitter dispute between two of the Empire's quarreling noble houses. Rough Nights & Hard Days also introduces an entirely new playable species, and presents a variety of pub games to amuse and confuse your customers.
Rough Nights & Hard Days includes:
A Rough Night at the Three Feathers:

 a quiet evening at the riverside inn becomes very eventful indeed.

A Day at the Trails:

 a much-awaited trial-by-combat becomes memorable for all the wrong reasons.

A Night at The Opera:

 an evening of cultured opera descends into farce and horror.

Nastassia's Wedding:

 a celebrated society wedding does not go according to plan.

Lord of Ubersreik:

 competing factions gather for a ball that quickly becomes a battlefield.

Pub Games:

 one learns of the many pleasant pastimes of which one can partake in the local tavern.

Gnomes:

 a mysterious, new playable-species is added to Warhammer Fantasy Roleplay.
Rough Nights & Hard Days is the perfect addition to any game of Warhammer Fantasy Roleplay as it can be used to start a new campaign, to support the design of exciting locations, or to enhance an ongoing story with exciting new adventures and rules.
No customer reviews for the moment.