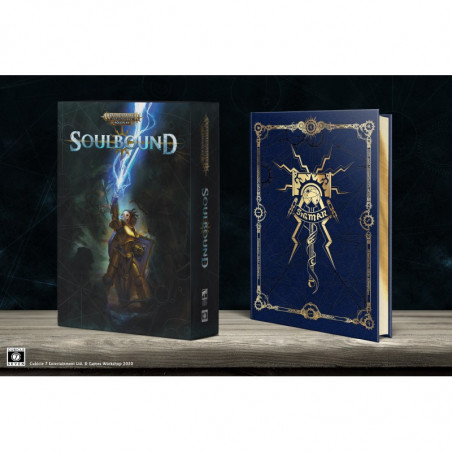  
Warhammer Age of Sigmar RPG Soulbound Collector's Rulebook
Tax included
1-2- business days
Warhammer Age of Sigmar RPG Soulbound Collector's Rulebook
As Sigmar's Storm broke upon the hordes of Chaos, a flicker of hope was rekindled in the people of the Mortal Realms. The seeds of civilisation were planted and grew into new bastions of Order, and for a moment it almost seemed the endless tide of darkness could be held back. 
But then came the Necroquake, as the undead legions of Nagash rose up to shatter the cities of Sigmar. Hope dwindles and once more darkness threatens to engulf the Mortal Realms… 
We set out to create something genuinely special for the Warhammer Age of Sigmar: Soulbound Collector's Edition to take pride of place on your gaming shelf! The exclusive Collector's Edition book is beautifully finished with a deep blue faux leather cover, featuring a Stormcast Eternal warhammer and the symbols of the Mortal Realms intricately detailed in gold foil. The 352 pages are wonderfully finished with gold gilt edges.
The book is presented in a tastefully designed high-quality box featuring a magnetically sealed lid. On the front of the box our Knight-Questor Vel Arturious and the Soulbound logo are picked out with spot UV which reflects the light. On the back of the box, the Undying King Nagash glares at you, his crackling green eyes also detailed in spot UV.
No customer reviews for the moment.