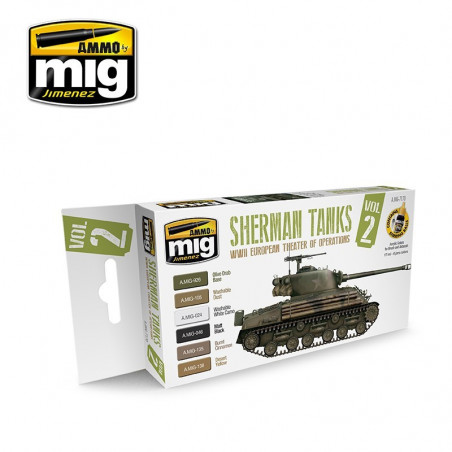  
SET SHERMAN TANKS VOL.2 (WWII EUROPEAN THEATER OF OPERATIONS)
Tax included
1-2- business days
SET SHERMAN TANKS VOL.2 (WWII EUROPEAN THEATER OF OPERATIONS)
Tens of thousands of this famous American tank were built during WWII. In addition to its use by US forces, the M4 Sherman also served with many Allied countries. This set includes the colors used to paint the Sherman tanks deployed by the US Army in the European Theater of Operations. In addition to the well-known Olive Drab, we can find two washable colors to represent makeshift mud camouflages and whitewash winter patterns. This set also includes black and a sand tone used as camouflage over the Olive drab factory finish by some units in certain areas of operation. The six colors have been formulated for maximum performance with both brush and airbrush. The Scale Reduction-Effect will allow us to apply the correct color on our models. 17ml jars. Shake well before each use. Each jar includes a stainless steel ball agitator to facilitate mixture. They are water soluble, odorless, and non-toxic. We recommend A.MIG-2000 Acrylic Thinner for best thinning results. Dries completely in 24 hours.
Includes colors:
A.MIG-024     WASHABLE WHITE CAMO
A.MIG-046     MATT BLACK
A.MIG-105     WASHABLE DUST (RAL 8000)
A.MIG-135     BURNT CINNAMON
A.MIG-138     DESERT YELLOW
A.MIG-926     OLIVE DRAB  BASE
No customer reviews for the moment.