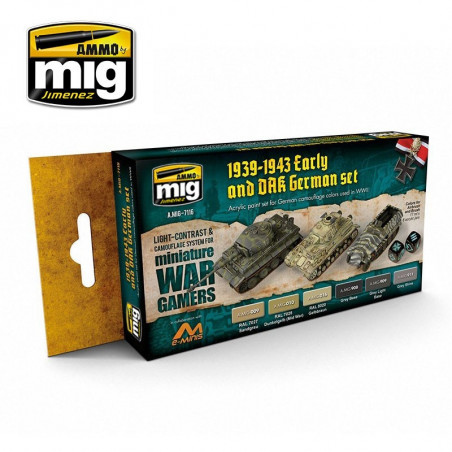  
WARGAME EARLY AND DAK GERMAN SET
Tax included
1-2- business days
WARGAME EARLY AND DAK GERMAN SET
This specially designed set for Wargames that allows you to easily paint early German WWII and Afrika Korps vehicles. This set includes 3 colors needed to add lights, shadows and volume to the base color of our vehicle and common camouflages of the era. All 6 jars are acrylic and are formulated for maximum performance both with brush or airbrush and the Scale Effect Reduction will allow us to apply the correct color on our models. Water soluble, odorless and non-toxic. Shake well before each use. Each jar includes a stainless steel agitator to facilitate mixture. We recommend MIG -2000 Acrylic Thinner for a correct thinning. Dries completely in 24 hours.
Include colors:

A.MIG-009 RAL7027 Sandgrau
A.MIG-010 RAL 7028 dunkelgelb (early)
A.MIG-016 RAL8020 Gelbbraun
A.MIG-908 Grey Base
A.MIG-909 Grey Light Base
A.MIG-911 Grey Shine
No customer reviews for the moment.