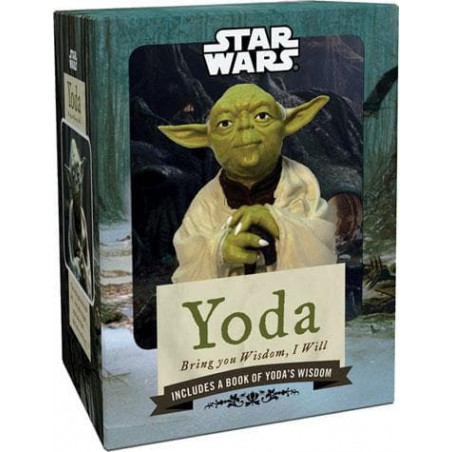  
STAR WARS YODA: BRING YOU WISDOM, I WILL
Tax included
1-2- business days
STAR WARS YODA: BRING YOU WISDOM, I WILL
The ultimate Jedi Master from Star Wars is also the perfect totem for wisdom in all of life's pursuits. Having explored the galaxy and studied the Force for hundreds of years, Yoda has passed on his knowledge of the Jedi arts to generations of the galaxy's greatest heroes. Now you can have your own Yoda sensei in your life! This one-of-a-kind, hand-painted Yoda statue comes with a customizable galactic display stand, a booklet of Yoda's most inspirational musings alongside full-color illustrations, and a sheet of removable stickers of select quotes. Perfect for the office, mantle, bedside table, or anywhere else the Force might come in handy.
Age Range:
 8 years and up
Publication Date:
 08/25/2010
Additional Info:
Box with lid, painted figurine: 3 x 2 x 1-1/2 in, booklet: 48 pp, full-color illustrations, 2 sticker sheets
Data sheet
Language

English
No customer reviews for the moment.