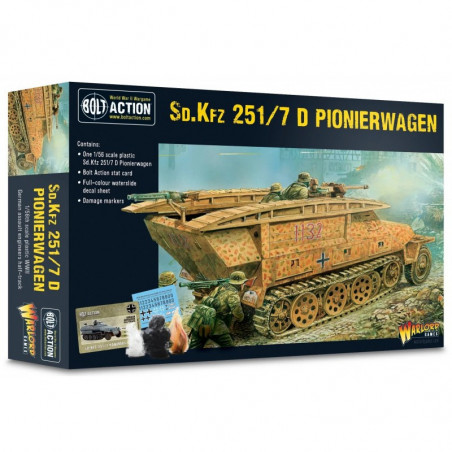  
Sd.Kfz 251/7 D Pionierwagen
Tax included
1-2- business days
Sd.Kfz 251/7 D Pionierwagen
The Sd.Kfz 251/7 Ausf D half-tracked engineer commonly known as the Pionierwagen. Based on the ubiquitous Sd.Kfz 251 Hanomag half-track, the Pionierwagen was a very useful vehicle for the assault engineers of the German Army, seeing service on all fronts, from the vast open areas of the Russian Front to the rubble-choked streets of Berlin in 1945.

Arguably the most striking features of the Pionierwagen were the two detachable assault bridge ramps carried along the top of the crew compartment. These could quickly be removed and placed to span ditches, broken bridges or other similar obstacles. Side lockers would carry inflatable boats for river crossings. Early versions of the Pionierwagen could be seen to mount the 3.7mm PaK 36 anti-tank gun instead of the forward machine gun but, as the war progressed, these became less effective and would be replaced by the Panzerbüchse 41 squeeze-bore gun, giving it a realistic chance against Allied armour.

Includes one plastic Sd.Kfz 251/7 Pionierwagen, Bolt Action stat card, full-colour waterslide decal sheet for German vehicles and vehicle damage markers.
Models supplied unassembled and unpainted
No customer reviews for the moment.