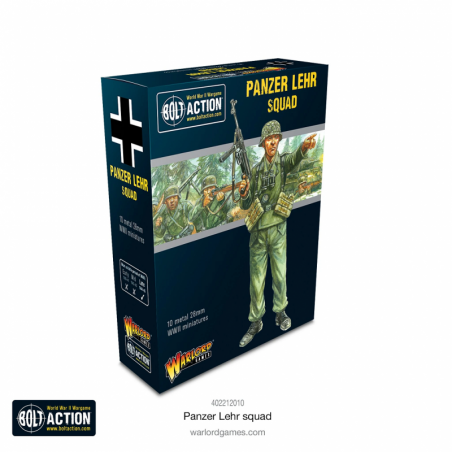  
Panzer Lehr Squad
Tax included
1-2- business days
The Panzer Lehr Division (armoured training division) was built in 1943 from the veterans of the North Africa, Sicily and Italy campaigns. These highly experienced troops formed the core of this training and demonstration unit and as such was considered an elite formation from its inception.
In 1944, the Panzer Lehr Division took part in the invasion of Hungary before moving to France to await the Allied invasion of Europe. Unlike other panzer divisions of the German wehrmacht, all the panzergrenadiers of the Panzer Lehr were mounted on half-tracks, making it the only fully mechanised unit in the German army. In addition, they were the first to fight alongside the new Tiger II tanks. They also wore a distinctive double-breasted assault gun-style jacket instead of the normal Heer field blouse.
Contains 10 metal Panzer Lehr squad models and plastic base
Note: Models supplied unassembled and unpainted
No customer reviews for the moment.