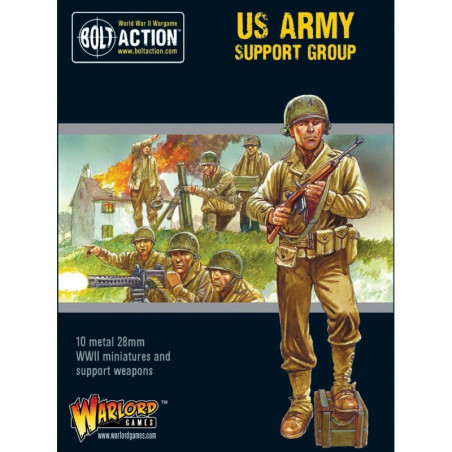  
US Army support group
Tax included
1-2- business days
This set contains:
1 x US Army HQ
1 x US Army Medium Machine Gun Team
1 x US Army Medium Mortar Team
HQ
American forces started the war with no experience of combat and often with minimal training. Once exposed to the realities of warfare both officers and men learned quickly. However, the constant demand for troops meant that relatively Inexperienced offers could still find themselves leading men into action even at the end of the war. Both experience and promotion often came very quickly whether in Europe or the Pacific.
Medic
The field medic presents the wounded soldier with his best chance of surviving serious injury and can ensure those lightly wounded soldiers are returned to fighting fitness as rapidly as possible. Junior medical staff, such as stretcher-bearers, can accompany medics in the field. Medical officers were not always armed but in practice, a pistol was often carried for self-defence.
Medium Machine Gun
The Americans were equipped with an excellent medium machine gun: the Browning M1919A4 .30-cal. Because of its weight (31lbs), it was always used with a tripod. It had a rate of fire of 500 rounds per minute and an effective range of over 1,000 metres.
Medium Mortar
In the American army, the role of medium mortar was fulfilled by the 81mm calibre M1 mortar. The mortar was the biggest killer of infantrymen throughout the war. An average crew could fire a dozen bombs in a minute. Compared with artillery shells that had a tendency to get 'buried' on landing, directing a good portion of the explosion into solid ground, mortar bombs fell almost on their nose and released destructive power all around.
Models supplied unassembled and unpainted
No customer reviews for the moment.