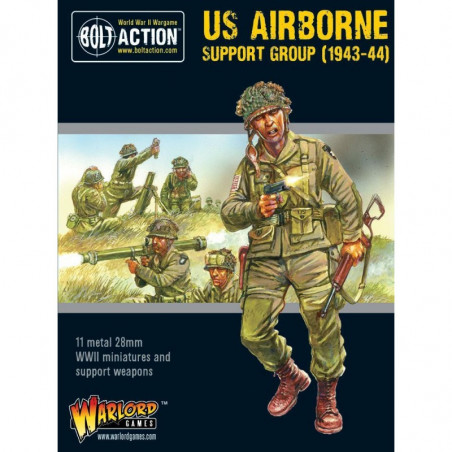  
US Airborne support group (1943-44)
Tax included
1-2- business days
US Airborne support group (1943-44)
This set contains:
1 x US Airborne HQ
1 x US Airborne Medium Machine Gun Team
1 x US Airborne Medium Mortar Team
HQ
American forces started the war with no experience of combat and often with minimal training. Once exposed to the realities of warfare both officers and men learned quickly. However, the constant demand for troops meant that relatively Inexperienced offers could still find themselves leading men into action even at the end of the war. Both experience and promotion often came very quickly whether in Europe or the Pacific.
Medic
The field medic presents the wounded soldier with his best chance of surviving serious injury and can ensure those lightly wounded soldiers are returned to fighting fitness as rapidly as possible. Junior medical staff, such as stretcher-bearers, can accompany medics in the field. Medical officers were not always armed but in practice, a pistol was often carried for self-defence.
Medium Machine Gun
The Americans were equipped with an excellent medium machine gun: the Browning M1919A4 .30-cal. Because of its weight (31lbs), it was always used with a tripod. It had a rate of fire of 500 rounds per minute and an effective range of over 1,000 metres. Paratrooper squads could carry the M1919A6 – a version of the Browning .30-cal. machine gun fitted with a lightened barrel, stock and bipod, in an attempt to provide a squad light machine gun.
Bazooka
The American Bazooka was first used in North Africa and on Tarawa in November 1942. The first version (M1A1) had two grips and a wooden support. By 1943 the new version was released which no longer had the front grip but had an improved electrical firing system. The final version was longer (1.55m) and improved the range from 200–250 yards to 300 yards. The M6 HEAT rocket could easily penetrate 76mm of armour at 30° or 110mm at 90°.
Light Mortar (M2)
Mortars were the most commonly available type of support weapon. Paratroopers and Rangers had one mortar per platoon, in addition to those that may have been assigned at company level. Normally they were deployed in a suitable rear position, no further than 100 yards from the observer in order to 'cover the most dangerous approaches to the platoon area'. The standard light mortar was of relatively large calibre at 60mm. It fired a correspondingly larger and more effective shell over a greater range than the smaller mortars used by the Germans and British. The only problem was the weight (19kg) that meant a larger team was needed to move it. The Paratroopers had a lighter version (the M19 only weighed 9kg).
Models supplied unassembled and unpainted
No customer reviews for the moment.
Customers who bought this product also bought: